Introduction
Face ID can now be used with a mask. This is truly Face ID: your iPhone will authenticate you by looking at the physical features around your eyes, thus it will function even if you're wearing a mask. Here's how to put it to good use.
What You'll Need to Unlock the Mask
This feature was introduced by Apple in iOS 15.4, which was published on March 14, 2022. If you don't already have it, go to Settings > General > Software Update on your iPhone to check for and install the update.
To use this function, you'll need an iPhone 12, iPhone 13, or a newer iPhone. Face ID is available on older iPhones such as the iPhone 11, iPhone X, iPhone XS, and iPhone XR, but Apple hasn't enabled the new mask-unlock capability on these devices.
Tip: If your iPhone is older and doesn't support this feature, you can still use an Apple Watch to unlock it while wearing a mask.
Mask Unlock: How to Set It Up
If you have a contemporary iPhone that supports this function, it will prompt you to set it up as soon as the update is installed. Mask unlock can also be enabled in the iPhone's Settings app.
Warning: According to the Settings app, Face ID is most accurate when used just for full-face recognition. If you don't use a mask on a regular basis, you should disable this function for maximum security.
Go to Settings > Face ID & Passcode and input your passcode there.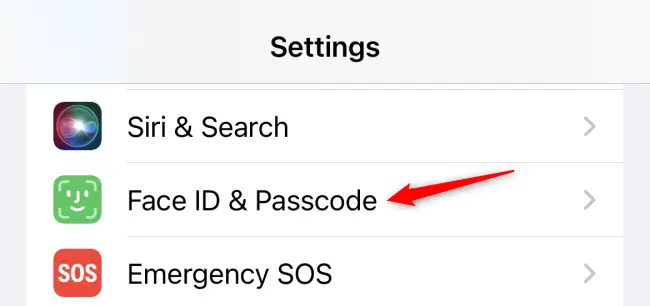 Here, turn on the "Face ID with a Mask" toggle.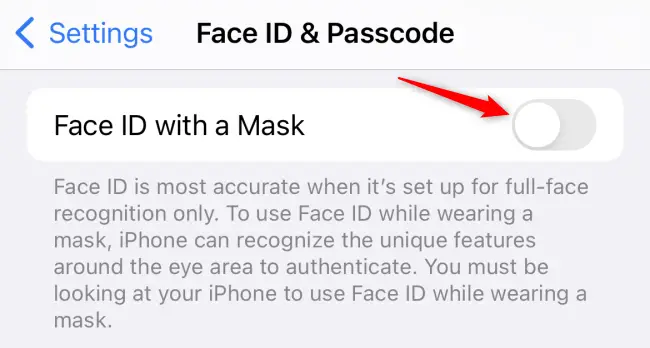 On the pop-up screen, tap "Use Face ID with a Mask."
During the setup, you will not be need to wear the mask.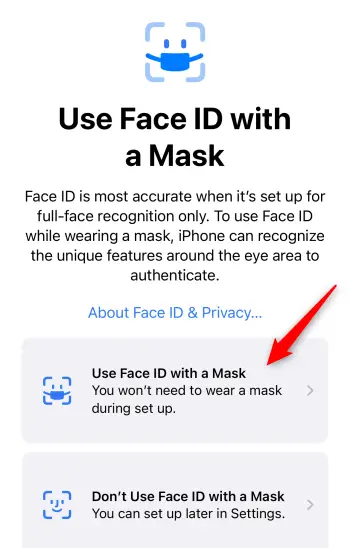 You'll be directed through the standard Face ID setup procedure, which includes rotating your face in the middle of the screen. You will be asked to take off your spectacles if you wear them.
Face ID with a mask will be activated once you're finished. If you like, you may disable it by disabling the "Face ID with a Mask" option on the Face ID & Passcode screen.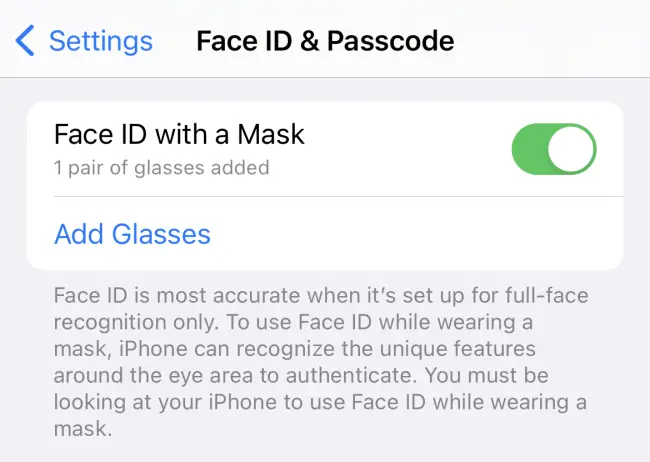 Instead, you can use an Apple Watch
If you have an Apple Watch and are concerned about the mask unlock feature's security, you can just unlock your iPhone using your Apple Watch. Only when your Watch is on your wrist, unlocked, and close to your phone will it unlock your iPhone.
To enable the Apple Watch, go down the Face ID settings screen and select it under "Unlock with Apple Watch."