Introduction
Just because you enjoyed something two years ago doesn't imply you'll like it again today. So, if you're weary of seeing stuff on your Facebook news feed that you don't care about, there's something you can do about it.
Because the first thing you see when you log on to Facebook is your News Feed, it's critical that you see the stuff you want to view. So, here's how you may tweak your News Feed to your liking. On your News Feed, you may now just view what you wish to see.
What Can You Do to Change What Shows Up in Your Facebook News Feed
Click the dropdown menu at the top right to customize what shows in your Facebook News Feed. After that, go to Settings & Privacy, then News Feed Preferences.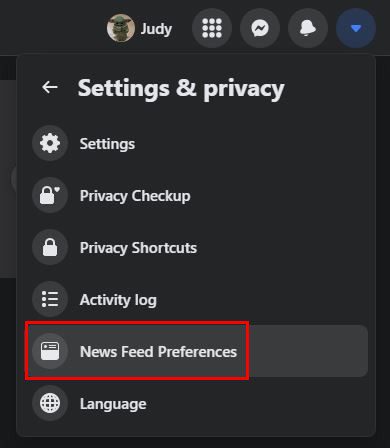 You'll find several choices under News Feed Preferences, such as:
Manage Favorites – This is where you may put certain sites or persons at the top of your list. These will take precedence in your News Feed.
Unfollow – This is where you go if you want to unfollow a person or a page, as the name implies.
Reconnect – Have you reconsidered your decision? This is where you may keep track of people or pages you've left behind.
Snooze – When you snooze someone or a page, their postings will be hidden from your News Feed for 30 days.
Reaction Preferences – You can choose whether or not the total number of reactions appears on your posts here.

Android
When you don't have access to your computer and don't want to check your Facebook feed. To go to the News Feed Preferences, first press the three-lined menu, then the cogwheel.

Select News Feed from the Preferences menu. You'll see the following choices:
Favorites
Unfollow
Reconnect
Snooze
When you press the three dots in the top right corner of your News Feed, you'll receive additional choices. For instance, you'll find choices like:
Save post
Add to favorites
Hide Post
Snooze for 30 days
Unfollow
Why am I seeing this post
Report post
View edit history
Turn off notifications for this post
Copy link
Conclusion
On Facebook, there's a lot to view. It might take a long time to view everything that piques your curiosity. As a result, you don't spend any more time than is really essential. It's critical to keep your News Feed updated with just the stuff you care about. What's on your Facebook News Feed right now? Please share your thoughts in the comments section below, and don't forget to share the post on social media.